What We Ate For Dinner at Censin da Bea, Borgomaro: More from Bella Liguria!!!!
JULY 11, 2013 BY MMORRIS348@YAHOO.COM LEAVE A COMMENT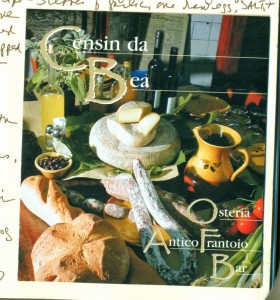 Censin da Bea is an old mill (antico frantoio) that has been beautifully resorted into a simply gorgeous restaurant.  We arrived with a group of ten.  The restaurant serves family style, prix fix, and you don't know what you're getting until you get there.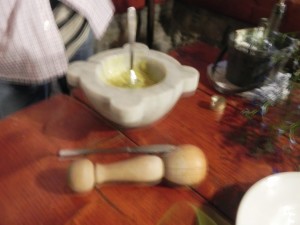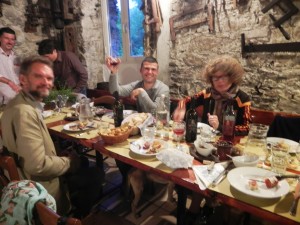 And this is what we ate:  In order of appearance:
cheese, sausage, bread, sundried tomatoes, tiny olives, fried baby onions, foccacio with tomato and rosemary, foccacio with  garlicky sauce, one bowl of aoli made at the table by Pierre, most sauce for dipping, ravioli with sage, trumpet pasta with pesto and green beans, smoked sea trout, beef with arugala, fried frog legs, snails, grilled eggplant, tiramisu, panacotta, lemon sorbette, two grappas.
It was literally amazing.  At midnight we crawled home.  And paid for it a bit the next morning.  But it was a dinner that we'll always remember in one of the most beautiful and romantic places I've ever been.  
FILED UNDER: UNCATEGORIZED